WHICH? GARDENING TRIALS

At the same time as the RHS AGM trials, Which? Gardening also started a trial to assess the performance of 24 different varieties at two different sites, one in North London and one in Glasgow. If you are a member of Which? Gardening you can log in to access the results of their trials published in November 2011 from this link: Which? Gardening.

Unlike the RHS they followed my winter care advice and as a result experienced very low winter losses during the bad winter temperatures of down to -15C for about six weeks in Glasgow. Based on their findings they recommend buying potted plants where possible – this matches my experience, which is why I will never send plants out to customers bare root.

Varieties awarded the 'Which Best Buy' symbol were:
Inca Ice "very long flowering"
Little Miss Rosalind "survived the winter in a pot in North London"
Elvira "flowered well through a long dry spell"
Friendship "long display of light and cheery colour"
Orange Supreme "vibrant orange flowers".

Other recommended varieties included:
Apollo
Little Miss Natalie
Little Eleanor
Spitfire
Perfect Blue "a lovely colour and something a bit different".





It pays to protect your alstroemeria over winter!
Our customers, Les and Mary Anderson, wrote to us at the end of March to say that they had followed my advice (to cover the alstroemeria up well in the winter) but when they uncovered them they found lots lots of etiolated shoots. They wondered what we should do next. I advised them to let the plants see some light and feed well with tomato fertiliser – however, they should still cover them if there was a frost.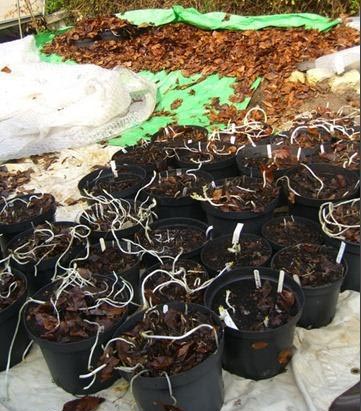 They were so delighted with the result that they wrote to the Amateur Gardening Magazine to tell them about the remarkable transformation within just a few weeks and the spectacular display that can be achieved by following this advice. Now I can't guarantee that your garden will be quite as spectacular as theirs …. but your plants will certainly survive if you follow their example.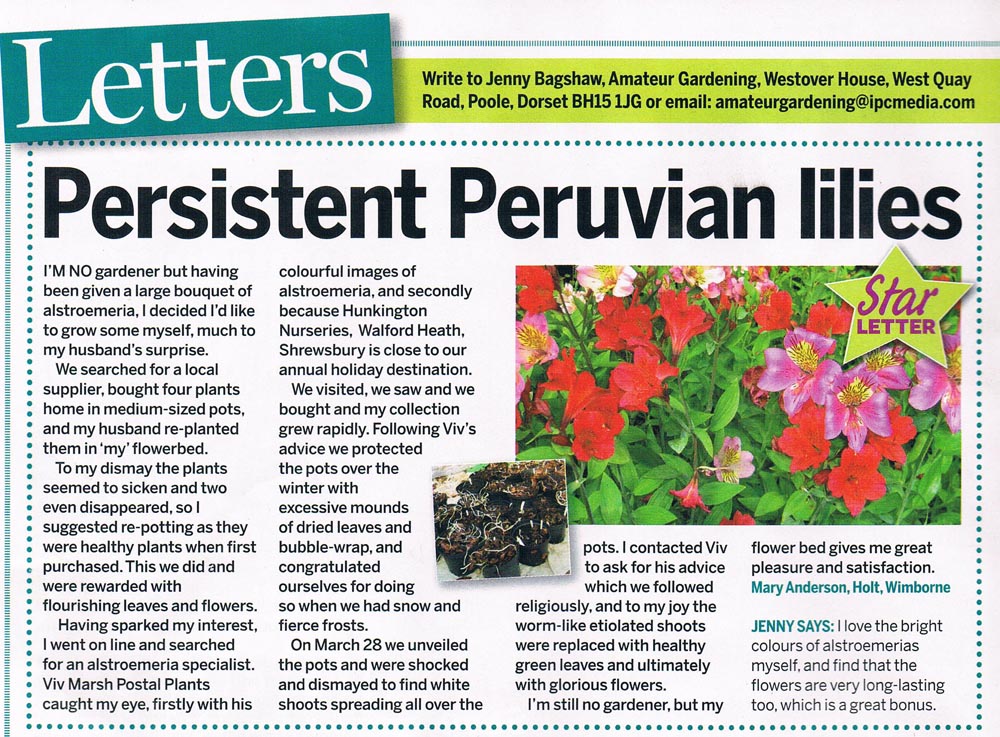 BBC Gardeners' World Show, Birmingham
The image below of my display of alstroemeria in a garden setting may give you some ideas about how to plan a border in your garden
Display of garden alstroemeria.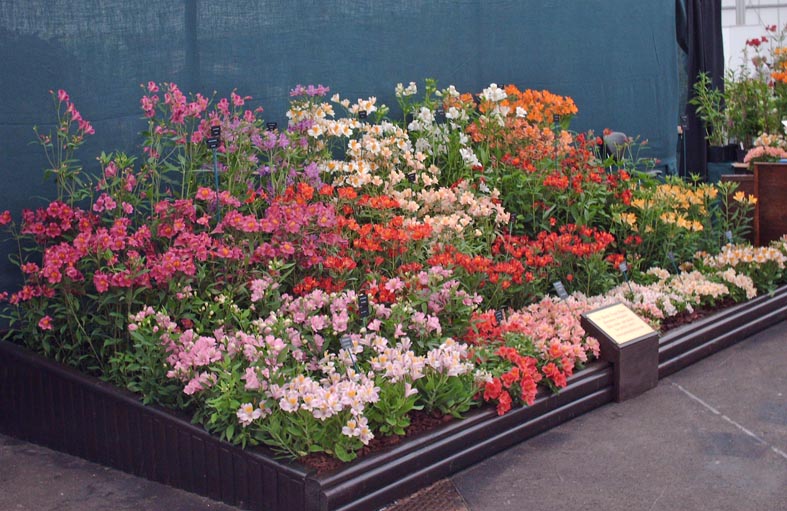 OPEN WEEKENDS

The nursery is open to the public for some weekends in the spring and autumn. Please see the 'About Us' link at the top of the page. You will be able to see most of the varieties of alstroemeria that we are growing in large pots, to give you an idea of how they will look as mature plants in your garden.
If you would like to visit outside these times please contact us on (01939) 291 475 to make an appointment.
You are welcome to collect plants if you give us advance notice to collect your order.


How to find us:


From Shrewsbury, follow the B5067 Baschurch road North West for 5½ miles until you reach Walford Heath. At the crossroads turn left towards Montford Bridge. The nursery gates are 500 yards on the left.
Note: if you are using Satnav or Google please note we are not the closed down nursery at the crossroads!