SPECIALLY SELECTED PLANTS LESS THAN HALF PRICE
We know that many customers are feeling the pinch with the current economic climate. To help your money go further we have slashed the price of many alstroemeria varieties to £5.75, so you SAVE OVER 50%! There are tall, medium and dwarf plants in our Special Selection offer – in fact, you'll be spoilt for choice. There is a minimum order of £33 plant value.

We feel this will be an ideal way for the beginner to get started growing these plants and then realise what great value for money they are, totally outperforming any other herbaceous in flowering.
PRAISE BEE CHARITY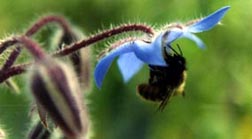 You might have heard on the BBC or read about the new charity I have set up where I have been breeding osmia solitary bees in the wild for nearly ten years. This is after building a bee nursery similar in construction to mine for a client a number of years ago. The project was met with limited commercial success due to unproven technology at the time.

My remit is to place the concept of breeding these bees back in the hands of the general public. As a qualified farmer as well as horticulturalist, I feel well placed to carry out this task.

Please log onto the charity's website for further details PraiseBee.org.uk
DAILY TELEGRAPH
We were delighted to be featured in a recent Daily Telegraph article. You can read Bunny Guinness's article Why amazing alstroemerias are a best-kept secret where she says "All alstroemeria fanatics stress buying pot-grown as the rhizomes and tubers are highly vulnerable to predatory fungal diseases when out of the ground."
GIFT VOUCHER FOR 3 PLANTS INCLUDING P&P
If you are stuck for gift ideas, why not let the gardener in your family or friends choose their own present? For £45.20 including P&P you can order a gift voucher from our website. This includes a card and catalogue which will be sent to the delivery address of your choice (or to your address to give personally). All you have to do is enter the details of your message in the 'additional information' box and we will do the rest! To order a gift voucher please click on the link at the top of our Catalogue page.
NURSERY OPEN WEEKENDS FOR 2013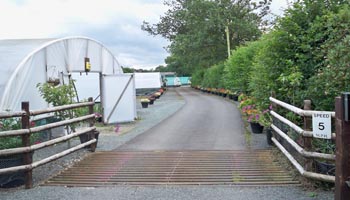 Come and visit our nursery in the beautiful Shropshire countryside and look around our tunnels and see the plants in flower. Dates for our 2013 open weekends are 29th & 30th June and 7th & 8th September from 11am to 4pm. However, you don't have to wait for our next open weekend - if you would like to visit us please telephone or e-mail us to arrange an appointment. Look for the link at the bottom of this page to find us on Streetmap - note that we are approx. 300 yards from the crossroads - NOT the closed-down garden centre at the crossroads!
SECURE CARD PAYMENTS ON-LINE
We take your card security very seriously. When you order on our website you will be taken directly to the Worldpay secure website to make your payment. You will see the address change to https (which means it is secure) and the Worldpay padlock to ensure that your details are safe. Our website complies with the most up to date industry regulations (Payment Card Industry Data Security Standard). The logo below verifies that we comply with the strict procedures for processing card payments.

COOKIES
In order to keep track of your order and create a shopping basket, our website uses small text files called 'cookies'. These harmless files are removed from your computer as soon as you leave our site. We do not use 'persistent' or 'tracking' cookies that can remember you when you return to the site. Using our website implies that you understand and agree to this.
AVAILABILITY
All plants are produced from tissue culture in a micropropagation laboratory. We are currently setting up a laboratory here at the nursery but until this is established we rely on the supply from other laboratories and this is not always available as they run a strictly seasonal production cycle. If you are interested in plants that are marked 'Currently out of stock' please telephone or e-mail us and we may be able to give you an idea of when we expect them to be back in production.
DELIVERY
In normal circumstances, plants will usually be despatched within 2 to 3 weeks from receipt of your order according to plant availability, but in extremes of hot (or cold) temperatures, plants will be held here in the nursery until the weather improves. Orders will be acknowledged personally by e-mail within a few days, giving an estimated delivery date. P&P is £9.95 for orders up to £99.99 and £4.95 for orders of £100 or over for mainland UK (please see Terms & Conditions link for other areas).
Despite an increase in costs and VAT we have decided to hold our carriage and packing charges for the last 3 years. If you would like to order plants from abroad please contact us for an approximate quote first.
RHS AWARD OF GARDEN MERIT (AGM) TRIALS
We are delighted to announce that in June 2012 the RHS awarded 10 new Award of Garden Merits (AGMs) and a further three were re-confirmed from their 1995 trials.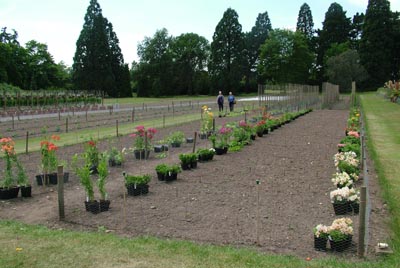 Alstroemeria ready to be planted out at RHS Wisley at the start of the trials

To see how similar trials were done, go to my News & Updates section and see the results of the Which? Gardening trials. Using my plants drawn from the same stock as those with the RHS, they recorded negligible winter losses over the same period.

Their trials in Glasgow and North London were covered up with six inches of bark mulch during the winter.

WEALTH WARNING
BARE ROOT PLANTS OR POTS?
The old adage 'You don't get something for nothing' has never been so true! We only sell large, 1.7 litre plants, which is the equivalent of a standard 2 litre plant you would find in a garden centre. Our plants are well established which means they will flower this season. When comparing our prices, please bear this in mind. We do not send out plugs or small, 7cm or 9cm pots as we feel these are too small to plant directly into the ground.

We would never send alstroemeria plants bare root, as we feel there is a strong possibility that they will not survive. To buy bare root Alstroemeria is very risky, with high mortality rates from bacterial and fungal root rots. To plant bare root in the autumn is simply utter folly. Please don't be tempted when you see adverts like the one below for bare root plants.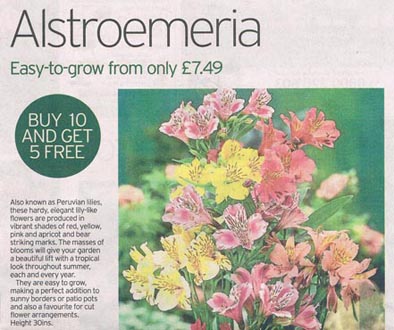 Advert for bare root alstroemeria

To illustrate my point, I sent for some different varieties as bare roots in the spring and grew them alongside my micropropagated varieties. You can see for yourself the results in the picture below.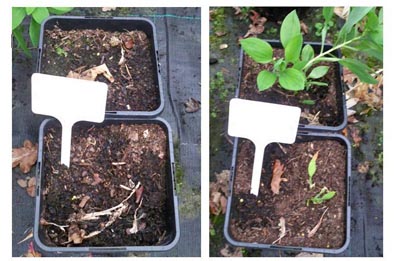 Bare root tubers planted last spring

Just compare this with a micropropagated plant that was potted up at the same time growing in the same tunnel!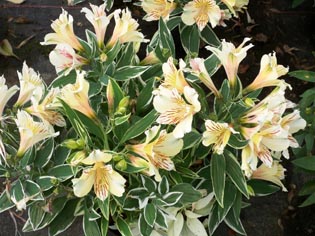 Alstroemeria 'Princess Fabiana' (micropropagated from tissue culture)

Put two of these plants in a large pot and you will end up with a display like the one below in a year's time, which will give you flowers from late spring until the first frosts.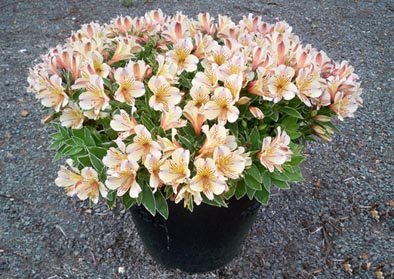 AT LAST
After five long years of building the laboratory in the nursery, working late into the night with numerous trips to the DIY, sourcing the equipment and literally travelling the world for the know-how, we have finally started production of micro propagated Alstroemeria.

The next few years will see improved media formulae analysis alongside growing techniques before production is where I would like it to be. This is the nature of the work.

I would like to thank my mentors and tutors: Professor Mark Bridgen at Cornell University, New York and Ros Smith at the Duchy College in Camborne, through Plant Heritage, for their knowledge, kindness and patience in supporting me to achieve this goal.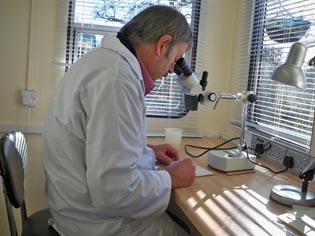 Step One sourcing of buds from the mother plants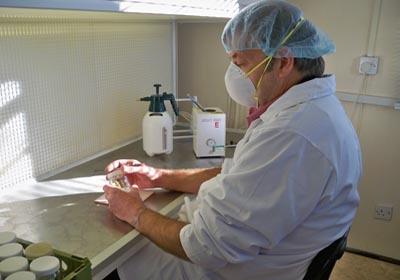 Step Two Meristem production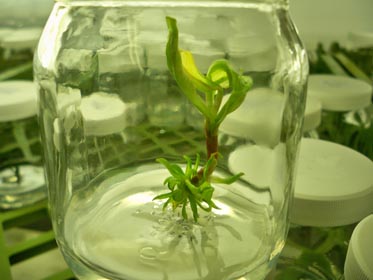 Step Three Alstroemeria budding up on agar gel 'in vitro'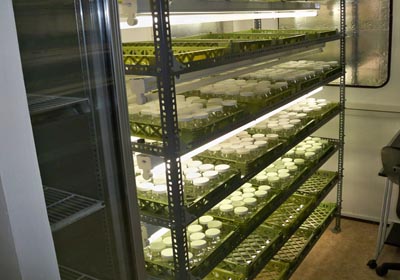 The laboratory growing room

AND FINALLY ….
Do please bear in mind that it costs substantially more to grow a plant from micropropagation in a laboratory. Accordingly, I have to charge more for the final article to cover my costs. I wish I could say that this could make me a millionaire, however, this is not the case as there is a simple rule that no-one gets rich growing plants!

ALSTROEMERIA CATALOGUE
If you would like a copy of our 2013 illustrated catalogue featuring even more new varieties please give us a ring on the number at the top of the page or request one using the Contact us link at the top of the page. Our on-line catalogue will be regularly updated with all the current availability. If you wish to reserve plants that are not yet available please give me a ring. There is a minimum order of £33 plant value.

NATIONAL COLLECTION OF ALSTROEMERIA