Alstroemeria 'Perfect Blue'
At last it's here! I am delighted to tell you that, several years after I found this stunning plant on my travels around Europe, I now have a limited stock growing in my nursery. Its unique lilac-blue colouring stopped me in my tracks and I knew that this would be a much sought-after addition to my already extensive range of Alstroemeria.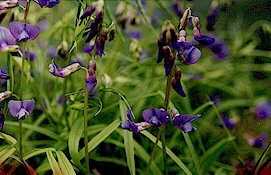 This is the new Lathyrus flaccidus 'Lamorna's Love'. I have bred and trialled it in the nursery over the last eight years. It stands some 50cms high with an erect, bushy stature, is non-invasive and succumbs to few diseases or pests. It is best suited to a damp, sheltered, sunny site towards the front of the border where its delicate royal to steely blue flowers set over its long narrow leaves can be appreciated from April to May.